If you are a 40 something woman struggling to manage your hormones, would like to experience total sanctuary and nurturing with the focus on just you, then I have found you the place.
.Kaliyoga is set in the beautiful Andalucía hills in Spain; they have been there for some years and have launched a pioneering programme for women to re-balance their hormonal health. This is done with a mixture of a very well thought out programme of yoga, meditation, education and food – not just healthy food; amazing food!
The team at Kaliyoga will take you under their wing and nurture you, give you time you thought you could never have to spend on yourself and when you leave you wont realise how broken you actually were on arrival. After being greeted in the main house by the very kind, calm Jane with a hug, my first meal was eaten outside by the pool overlooking the beautiful hills.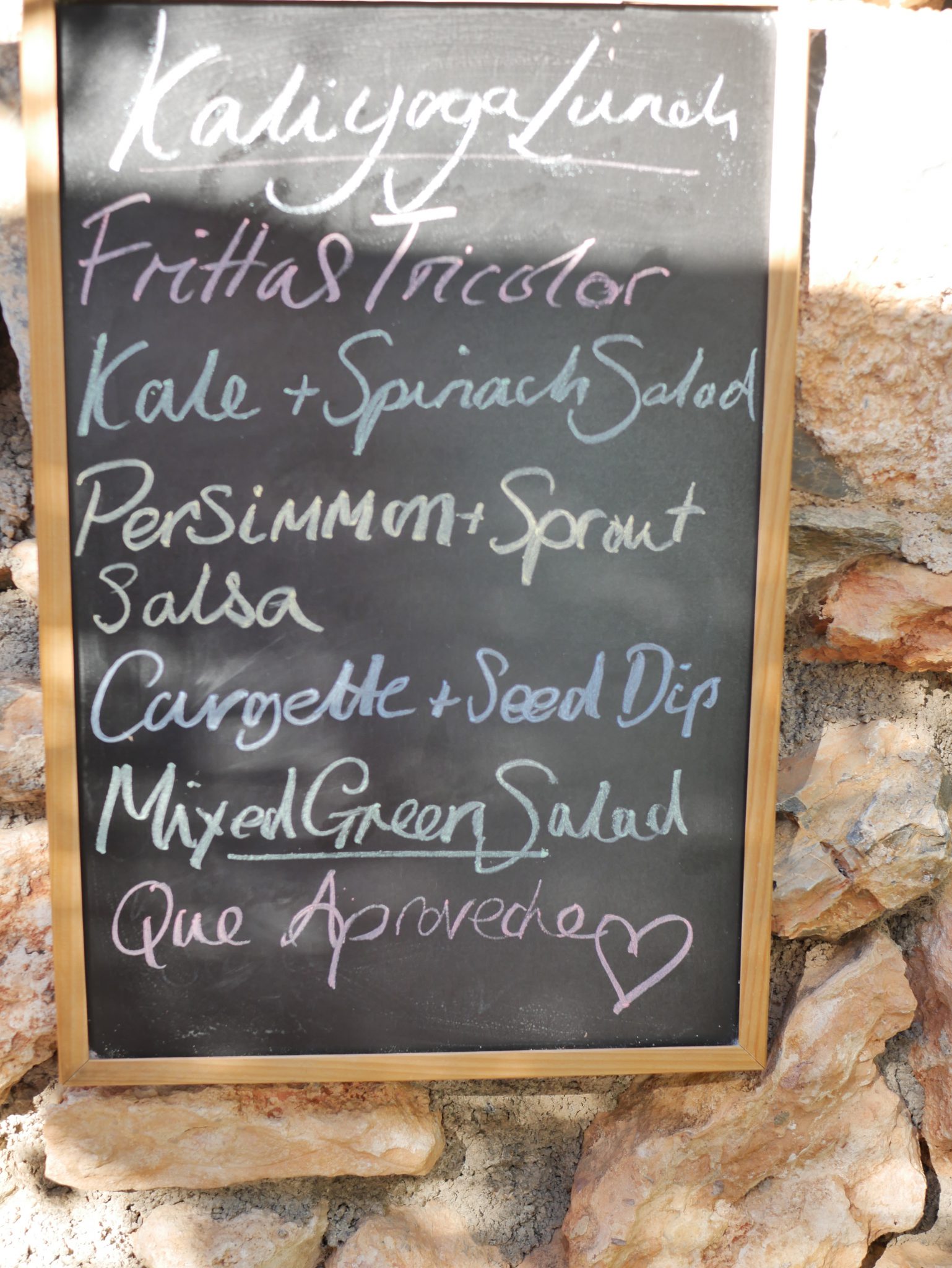 While I enjoyed my tasty red pepper and garlic soup followed by asparagus and goats cheese frittata, Jane reassured me that even though there was a programme, I could pick and choose if I joined in or not. The only thing they asked was if we could perhaps refrain from too much technology and noise, again Jane reassured me "of course we would never say no to phones etc, but we find it is so nice to switch off, isn't it?". Yes, it really is Jane.
After settling into my calm, all white casita in the grounds I wrapped myself in my new cosy blanket and took my torch and meandered through the trees to the Yoga Shala on the other side of the house.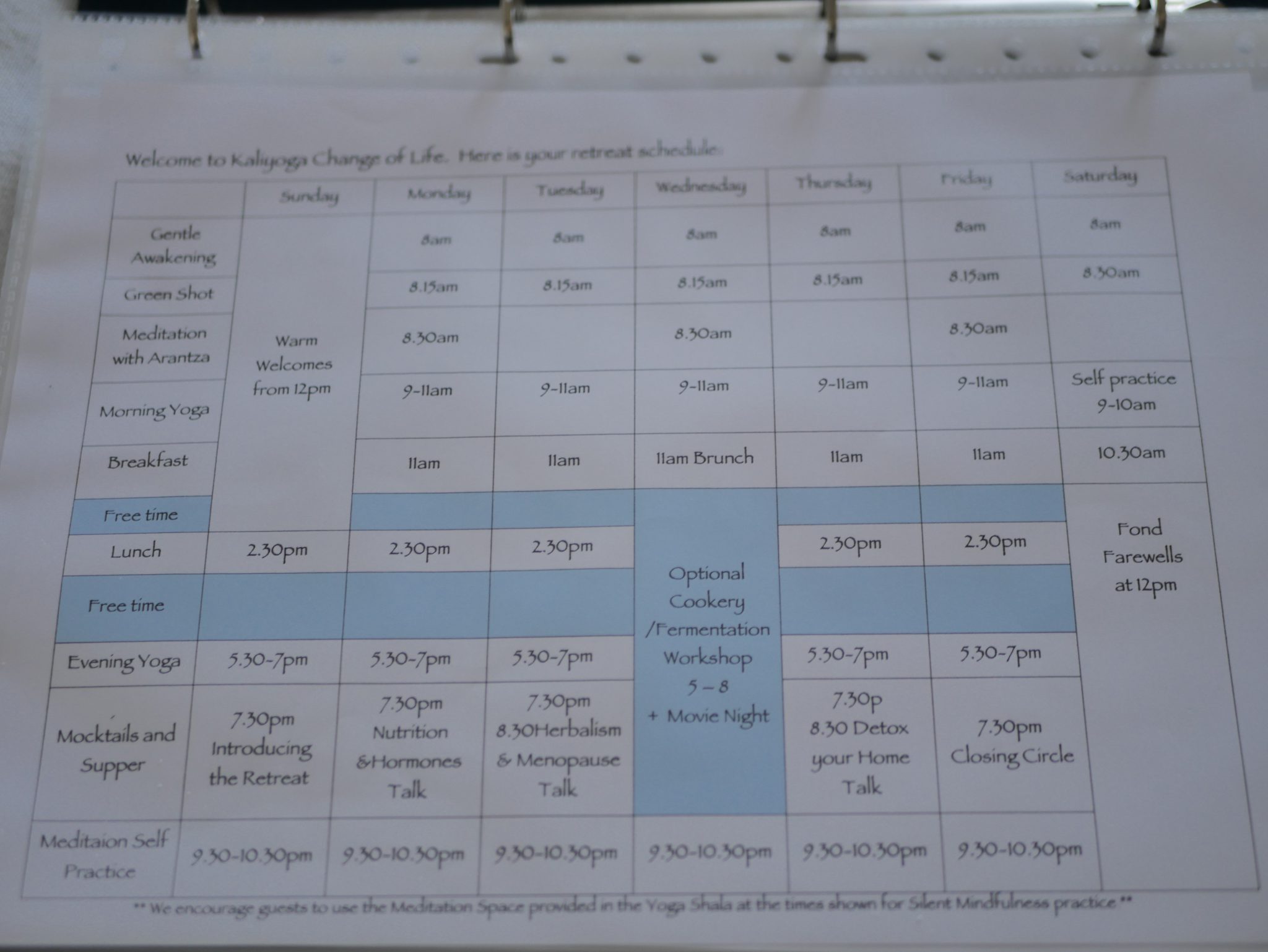 It was down a path with yet another great view of the mountains and there I had my first 30-minute meditation class followed by an hour and half yoga session.
The Yoga programme is very well planned. Lelly who took every session of yoga changed each class slightly and varied the sessions to target every part of the body that is affected by hormones. Lelly's understanding of the body and how it is affected by hormonal imbalances is extensive; she offers insight into how best to look after your whole endocrine system through a series of practices including breathing, self-massage and poses to support each part of this system and body, focusing on areas including the adrenals, kidneys, thyroid and how to calm the nervous system, to aid a calmer, more relaxed state.E ven though I had not practised yoga for a while and am recovering from shoulder surgery she was seamlessly able to adapt each session for me and others more advanced, every woman was challenged and cared for individually.
Our sessions were split into a more dynamic flow to restorative yoga, which for me was just heavenly. With Lelly's expertise along with the tools such as blocks, straps and bolsters, she was able to instruct me into positions that I never thought my body would ever be in again due to multipe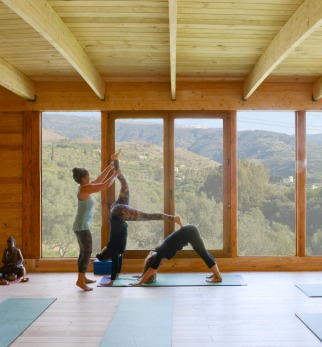 injuries. I am not embarrassed to say that during one class I felt such release of tension that I experience a wave of euphoria, I actually cried! Lelly explained that years of emotional and physical stresses were being released. Let's face it most women our age will have some type of baggage to be released! Teaching to such a varied group with such ease and precision is a great skill, I feel blessed that I was able to experience her teaching and practising with other amazing women on this retreat.
Our itinerary of the day started at 8am. I had switched off my phone but would know when it was time to start the day as one of the team would walk around outside every room and casita and chime gently on Tibetan bells. Most mornings I would just wash my face and teeth and put my blanket over my PJ's to go to the house for our green shot, bee pollen and some nuts before starting our yoga practice of 2.5 hours.
After yoga, at 11am, we would walk up to the main house and laid out on the table in the sun would be our breakfast. Which each meal, every one of us would sigh and remark on how amazing the food was and all agreed how indulgent it felt not to even have to think about food all week.
Our lunch was served at 2pm and diner was at 7pm, preceded by mock-tails and nibbles which was perfect after our evening 1.5 hour class.
The afternoons were taken up by sitting in the sun and exchanging stories of our therapies and life, it was so lovely speaking so openly to other women who were suffering with hormonal imbalances, who would never judge you if you would forget what you were talking about mid sentence! #brainfog!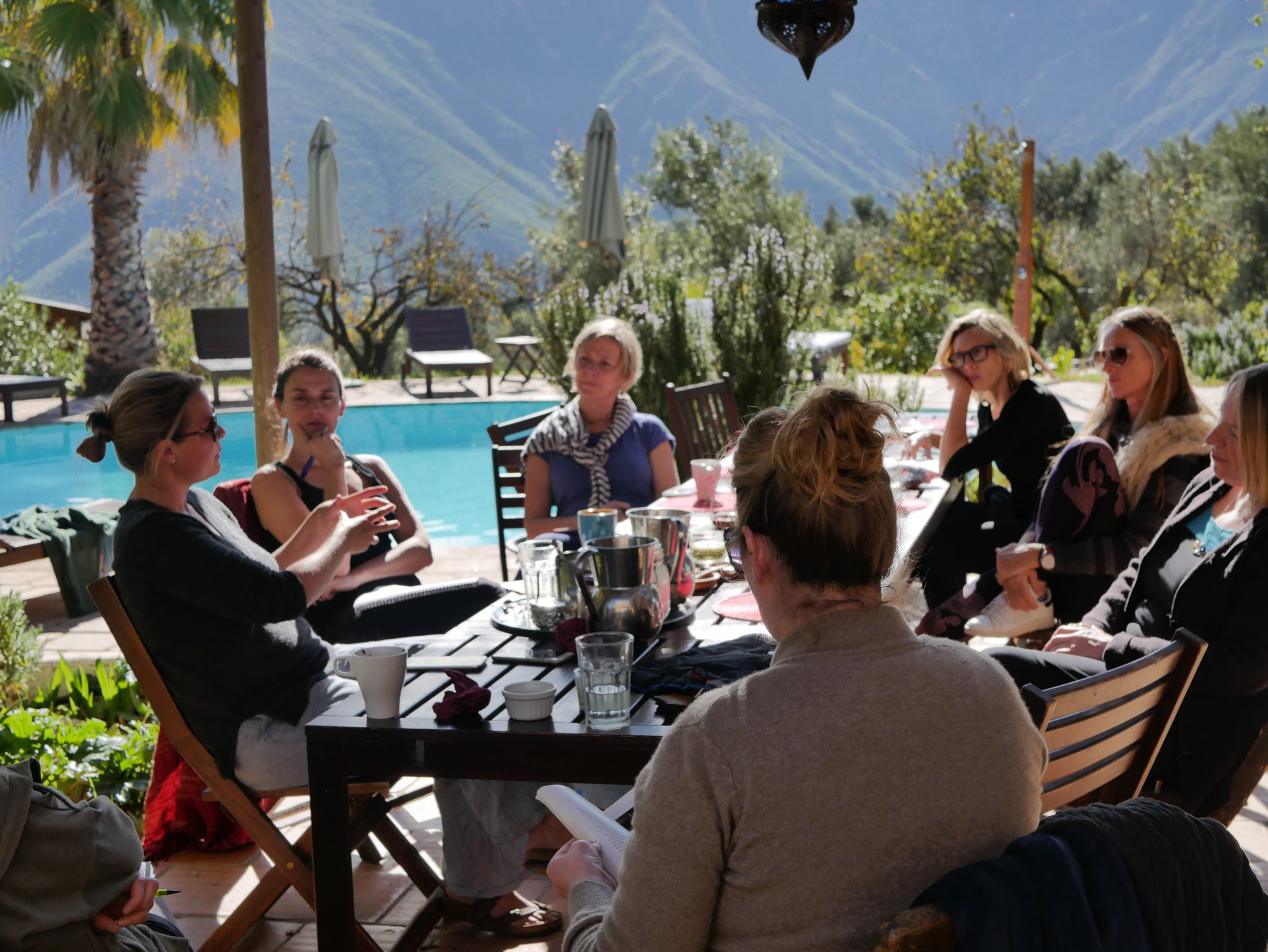 The programme of therapies was varied, from the usual – aromatherapy, sports and Thai massage to more alternatives such as Bio-magnetic healing, energy healing and quantum therapy. One lady was taken back to her mother's womb, another only to being born. I think the later felt short changed! Both were amazed by their experience.
I received 3 therapies; first a 1.5 hour aromatherapy with Charlotte who infused oils to suit my frazzled hormones and to aid my shoulder recovery. I slept like a baby that afternoon and missed my evening yoga. Mixed feelings to this missed practice: however, I cannot remember the last time I slept in the afternoon!
Next, I visited Patricia the deep tissue massage therapist. Her 20 years' experience shines through in her practice and incorporated different techniques. I have received many treatments to support and aid my job and lifestyle but have to say she comes up top. Patricia went deeper than any therapist before and found points in my jaw that released areas of my back; wow. I visited her again over the week.
After our evening yoga we would convene by the log burner on sofas enjoying our mock-tails and nibbles and to find out what talk we were having after dinner. Most talks were delivered from Becks that included;
Hormonal health – what happens to our whole-body systems and how to help through food.
Self-care – we had magnesium foot baths 2 nights and she gave us a body mit to carry out dry body brushing to help with our lymphatic drainage and organic sesame oil to use the "pulling" technique. Oil is placed in your mouth and you rinse as you would mouthwash. This action draws out toxins in your body, primarily to improve oral health but also to improve your overall health.
Super foods – I learnt a lot on this workshop and after coming home I am finding it easy to incorporate what I learnt from her. Becks really is an inspiration, she offers 1-2-1 sessions throughout the week as well as Skype and her approaches are realistic to each individual's lifestyle.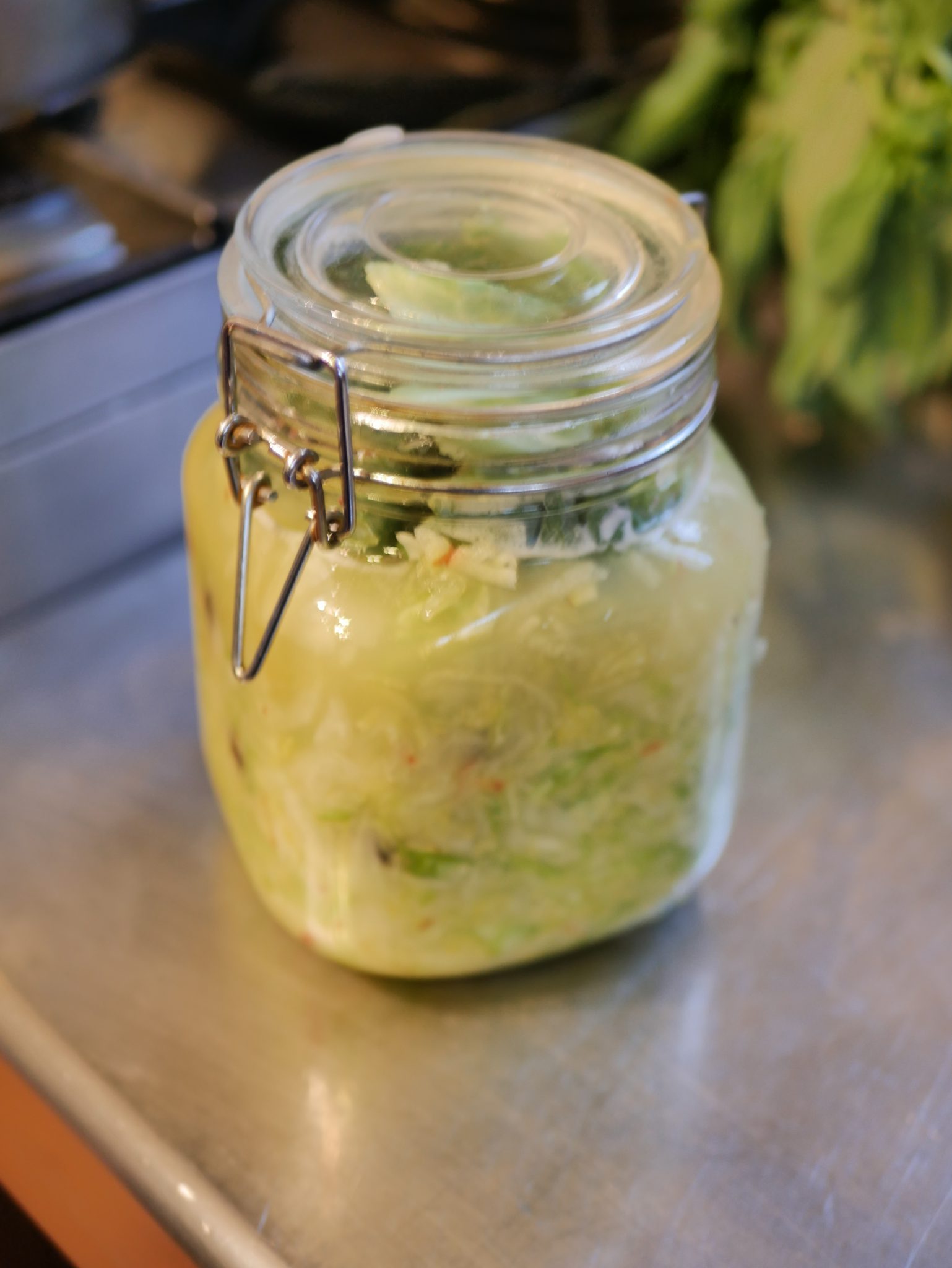 Throughout the week Amanda our amazing chef organised a fermentation workshop, which promotes gut health and another evening a raw workshop.
Her creation that evening was a raw lasagna: pasta was replaced with courgette, softened with Himalayan salt and love, the "meat" was walnuts and tomatoes, with the béchamel replaced with blended cashews and yeast. It tasted amazing! followed by a raw cheesecake, just spectacular.
If you are a chocoholic then fear not there was even a raw chocolate workshop.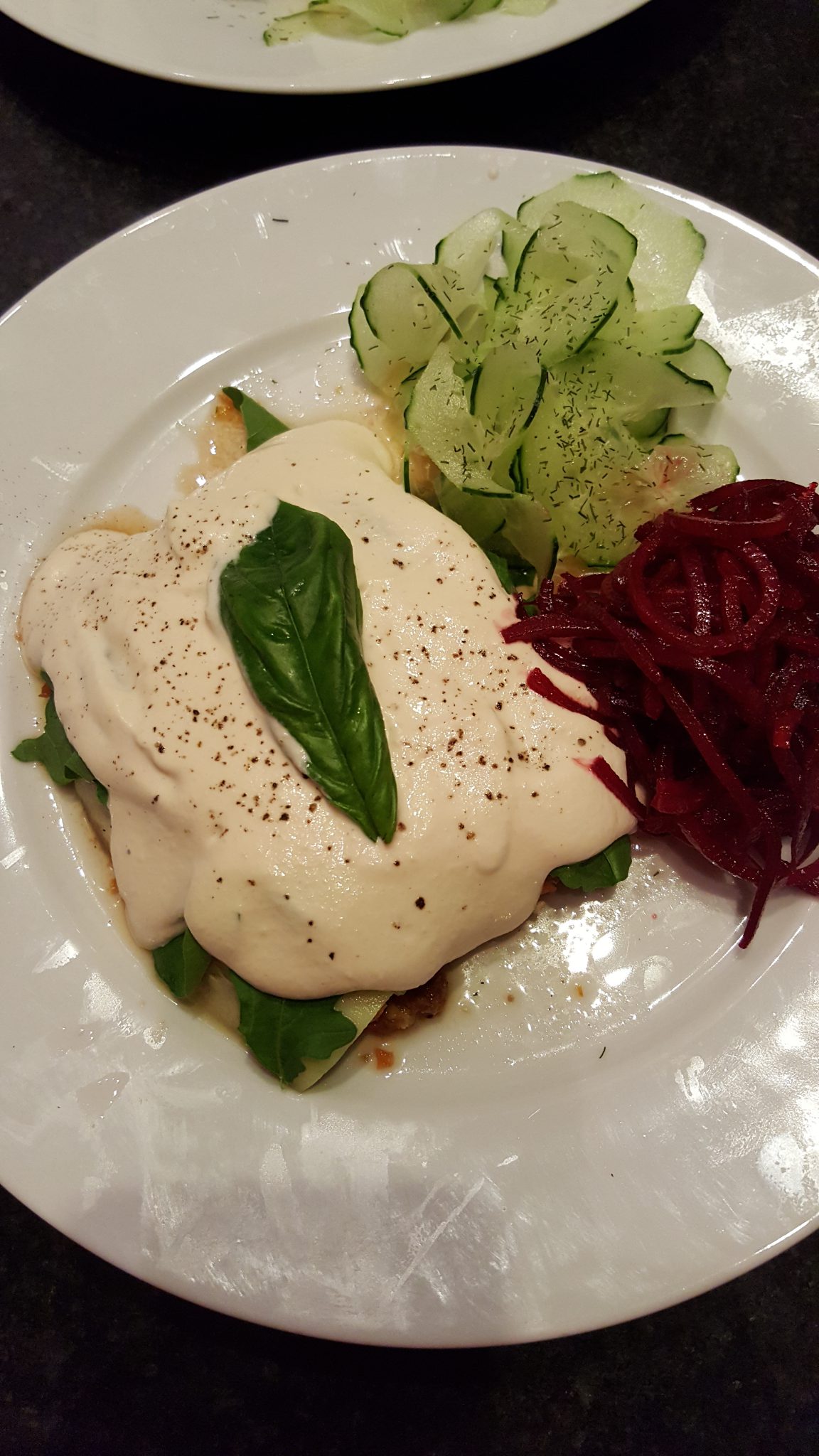 Throughout the week I did not feel hungry, I slept really well and with each day that passed I felt my whole body relax and release from the stresses of everyday life and hormonal imbalances. I felt that the whole week was just totally indulgent. I did not crave anything and since being back from the retreat have not drunk caffeine. I'm still incorporating my new food choices along with making sure I lie on the floor with my legs up against the wall at least 5 times per week, which was a top tip from Lelly.
I was recently talking to a good friend who I have been on many wonderful holidays with and said that my week at Kaliyoga was one of the best weeks of my life. Thankfully we are still friends after this comment and she is looking to book in April!