Hello all!
This is a blog to firstly ask for help and secondly to introduce a new feature!
A colleague in my fitness professional network is looking to recruit participants for a study to measure how effective jumping is for bone health.
As you know, having worked with vulnerable older ladies who are affected with osteoporosis this is close to my heart. I have seen what can happen in later life if we do not look after ourselves and I try and get the message out there as much as possible.
Just a reminder:
One in two women over the age of fifty will break a bone
Osteoporosis is called the silent killer
Menopausal women are at high risk of osteoporosis because of a lack of oestrogen
The major risk sites are hips, wrists and spine
Weight bearing exercise and resistance work (using your own body, free weights, fixed weights or exercise bands) will both help
Impact work such as running will help strengthen the lower spine and hips.
Radio 4 Feature
If you are not already sold, then you might want to listen to this feature on Radio 4 Christine Sharpe who did not have this condition until she had a fall which was life changing. https://www.bbc.co.uk/sounds/play/m0009jdn
Do you live near Stoke on Trent and would like to help in a bone health study?
Menopause Osteoporosis and Bone Intervention using Lifestyle Exercise (MOBILE)
What is the study about?
We are trying to find out what specific exercise can improve bone health during menopause. This information might be useful for deciding what type of exercise is beneficial for bone health and for preventing osteoporosis (brittle bone disease).
You will be required to take part in an exercise intervention lasting eight months. During this period, you will be required to exercise for just ten minutes on three occasions per week. All the exercises can be done in your own home or at a place most convenient for you. We will invite you to come into Staffordshire university to check on your progress once a month. You will also be required to attend the sport and exercise physiology laboratory at Staffordshire University, Stoke Campus, on three separate occasions: once before the intervention starts, once at the end of the eight months, and then three months after the intervention has finished. On these occasions, we will assess your bone health using a foot bone scanner, your balance and leg power and ask you questions about your current health and medical history.
We would like to invite you to take part in this study.
We are looking for a total of 134 postmenopausal volunteers over the age of 50. If you meet these criteria, are not using any HRT and have no medical or health condition preventing you from taking part, please contact Jacky Forsyth at j.j.forsyth@staffs.ac.uk or phone 01782 294057.
New Q & A feature
I receive lots of direct private messages on social media asking me about menopause and exercise. I feel it would be best to answer on open social media, my closed Facebook group and of course here on my blog so more can benefit!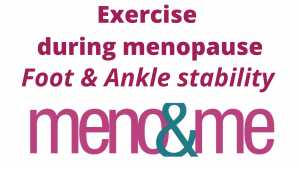 Here is last week's video on ankle   and foot stability; when we reach menopause, it can be common to start to feel weakness in our joints and muscles; so now is the time to address any issues prevent any more decline in function.

Look out for my next blog on how to survive the festive season and Q & A with Dr Dr Shahzadi Harper.
Hugs,
Jane