Hi all,
It is harder to loose weight during menopause and especially in this heat!
But It can be done!
Try and learn from my mistake!
Here are some tips for keeping cool and keeping your calorie intake under control
Alcohol
When sitting in the sun drinking your chilled wine, put a glass of water in your dominate hand and the wine in your less dominate hand. You will sip more from your water glass than the wine glass. A small glass of wine contains 120 calories, but be honest do we pour small glasses at home!?I am not asking you to give up having fun but how about thinking about swapping wine for gin and slimline, or a skinny bitch, vodka and slimline? Much less sugar!Obviously please be drink aware. It is so easy to up those units when socialising more during these barmy evenings which will also push up your calorie intake, not good for your health or waist line!
Food
Breakfast
Eggs. Eggs are a great source of protein and good with low carb options.
Boiled eggs with Ryvita, rye bread or good quality brown bread. Strangely I love a Ryvita with butter on and dipped in my eggs!
Eggs without carbs: scrambled, fried, poached, or as an omelette just like Gwen from Gavin and Stacey!? You can pimp an omelette up as much as you like. I love to put soft goats' cheese in mine, then some grated cheese and put it under the grill. You can also try adding salmon, avocado or spinach.
Buckwheat pancakes. These are a complex carb. I like to do these at the weekend and throw into the mix chi seeds for my protein and once cooked I have with warm bananas and yogurt – yummy!
Yogurt, with fruit, berries have less sugar than most fruits, but don't get too caught up on what fruit to have and not have, but make sure you eat some fruit as part of your 5 a day. To add carbs to this then just mix in some oats.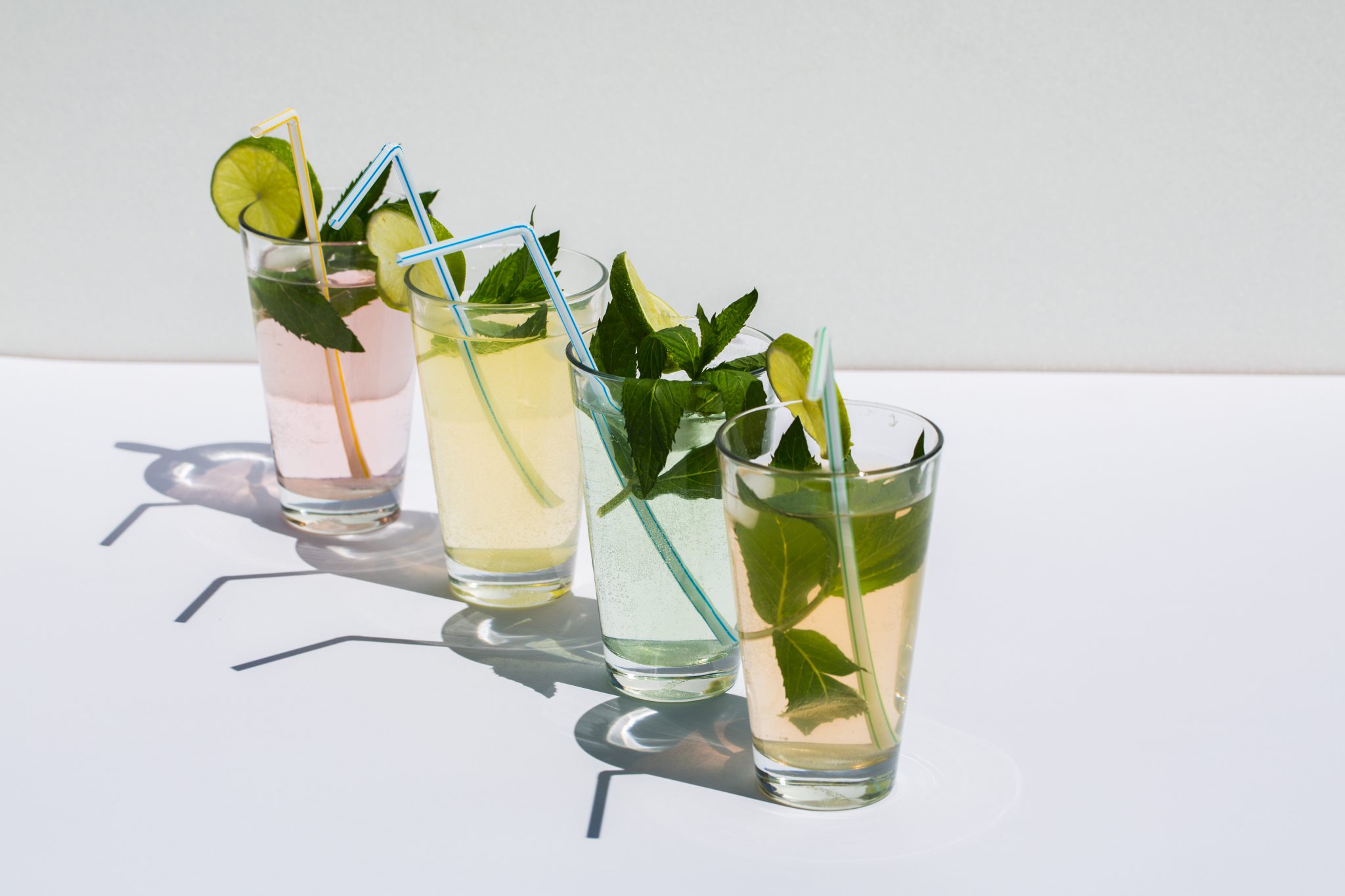 Lunch / Dinner
In this heat I really keep it simple, when I am at the Studio I boil a couple of eggs and have those with an apple, even just grab some cooked fish and an apple from Sainsbury's.
Salads. In this weather I have been having lots of salads as I can't bear to cook, I have been buying ready cooked fish such as salmon or mackerel..
Plan ahead of time. I have lost those 4 pounds and it was all in the planning. When I know I am going out for dinner I will look at the menu online and if there is a carb free option I go for that meal or if not then I don't have carbs earlier in the day.
Complex carbs. We need carbs for brain function and intestinal health, but mostly we eat too many which is how the weight creeps up. To drop my 4 pounds I ate 1 complex carb in the morning or at lunch, depending on when I was training, and swapped white foods for brown. A lovely chilled glass of wine with garlic bread or pizza is so easy and yummy – but packed with way too many calories!
After training in the evening I have brown pasta and salmon as I need to feed and repair my muscles as I usually do heavy weight training. Then the next day I have my complex carbs at lunch time.
Of course drinking lots of cool refreshing water will really help keep you hydrated, put lemon,
cucumber and mint in it do a big container and keep it in the fridge.
Juices
I love juicing – not all the time as our body needs food and a totally liquid diet is not good for us. However if I am busy and again cannot face to cook I substitute a meal for a good juice, so I am know I am getting lots of goodness and not losing out. If I have an early start in the studio and cannot face to eat at 6am I will drink a juice its easy and I don't have to chew! I use frozen berries, cucumber, celery, spinach or mix it up with an apple or pear – the choice is yours and either all water, coconut water or some lactose free milk – that is a personal preference not down to intolerance or any other reason, you can even have coconut milk or Almond milk again its all down to personal preference. For my protein I add chi-seeds and some pea protein. Variety is key in any diet and of course down to personal preferences.
Exercise & Sleep
Again, plan ahead, look at your day and see where you can fit it in.
Sleep, for me and most menopausal women is a problem, especially in this heat, so I think we need to just accept that we will be tired. If we can fit in some exercise it will help with our sleep, just try doing it when it is cooler.
As we will not be getting as much sleep as we would like we are likely to be feeling "antsy" but moving will really help – I promise!
Either exercise first thing in the morning or last thing at night. The rule of when to exercise is not too late at night because it won't do your sleep pattern any good. I am lucky my local leisure centre is 5 mins walk away so when it was really hot I hit the pool at 9pm, which cools me down from the day and I actually feel more relaxed and cool to sleep.Go for a walk. Walking outside is great for mental health and will burn calories – so if you can't sleep why don't you stop tossing and turning and just get up and out when it is quiet and go for a lovely walk in the sunshine, it will set you up for the day.Same thing at night, go for a walk. It will help you unwind from the day. The heat will make you will feel more annoyed and of course have more hot flushes. Walking out in the evening will be calming not only for the mind but the body – plus burning those calories and keeping you away from just sitting and supping that rose!I have to say it but gyms are really well air-conditioned. If the thought of going to a gym fills you with dread, pick the quiet times, mid-afternoon and after 8pm. Depending on your age, why not try an over 50 session? They are cheap as chips and run at specific times so you are not surrounded by young skinny Lycra clad girls!If you are suffering from anxiety, desperate about your weight or have any other health related problems then there is a GP referral scheme where your GP can refer you to a local leisure centre at a fraction of the cost. It is then more likely there will people who are in the same boat as you and hopefully an understanding instructor will be on hand to help. I know for some, gyms can be intimidating, but we all feel like that when we first enter.
I love our #teammeno on Instagram they were messaging me telling me how they were keeping fit in the heat.
Team Meno's top tips;
@TheSouthsideBlond – get up early and go to a spin class – walk into work and get their early – more productive, clocking up more steps and can leave early to do a yoga class.
@Healthyhappy50 – paddle boarding, taking up surfing lessons and plogging – jogging and picking up plastic – not only good for her health but the planet and sea!
@l_j_b1 Outside swimming in lakes and rivers. Ok not so easy if you live in a city!
@Jo_jo_vintage doing her Viparita Karani yoga pose – its great – legs up on the wall either on the floor or a bed, the hot blood from your feet will drain down and put a wet cold towel on your neck.
Other tips for keeping cool:
• Put wet flannels in the freezer and put them on your neck, wrists and
inside thighs, where our major arteries are – it will cool the blood.
• Putting a hot water bottle in the freezer and take one to bed.
• If you have a big enough freezer put your sheets in before bedtime!
I hope these options help and so you don't get to the end of the summer and be really upset on how much weight you have put on and remember if we carry extra weight it will adversely affect our health and our menopause symptoms.
I post my daily activity and what I eat on my Insta stories if you need extra inspiration or just to reassurance that everyone struggles as I certainly do sometimes!
Big hugs as always Meno's
Jane xx