Hello All!
I Hope you have had a good couple of weeks?! Sorry I didn't connect last Sunday. The last two weeks seemed to just run away with me!
Welcome
Welcome to our new Meno's, it is great the we are building our family, I am here to support you via this blog, social media and our closed Facebook group (all links below).
Before I launch into my "menopause news" OMG – what is going on with the weather!? Just like life, lulled into a false sense of security then bang! Freezing winds and rain.
However, those of you who are suffering with hot flushes are probably not so worried. I am glad I am over those!
in.
Today I am talking about Menopause at work and also how it is being talked about in the House of Common's!
Public speaking
I love talking all things health and menopause at wellness days and conferences. More recently I have been talking at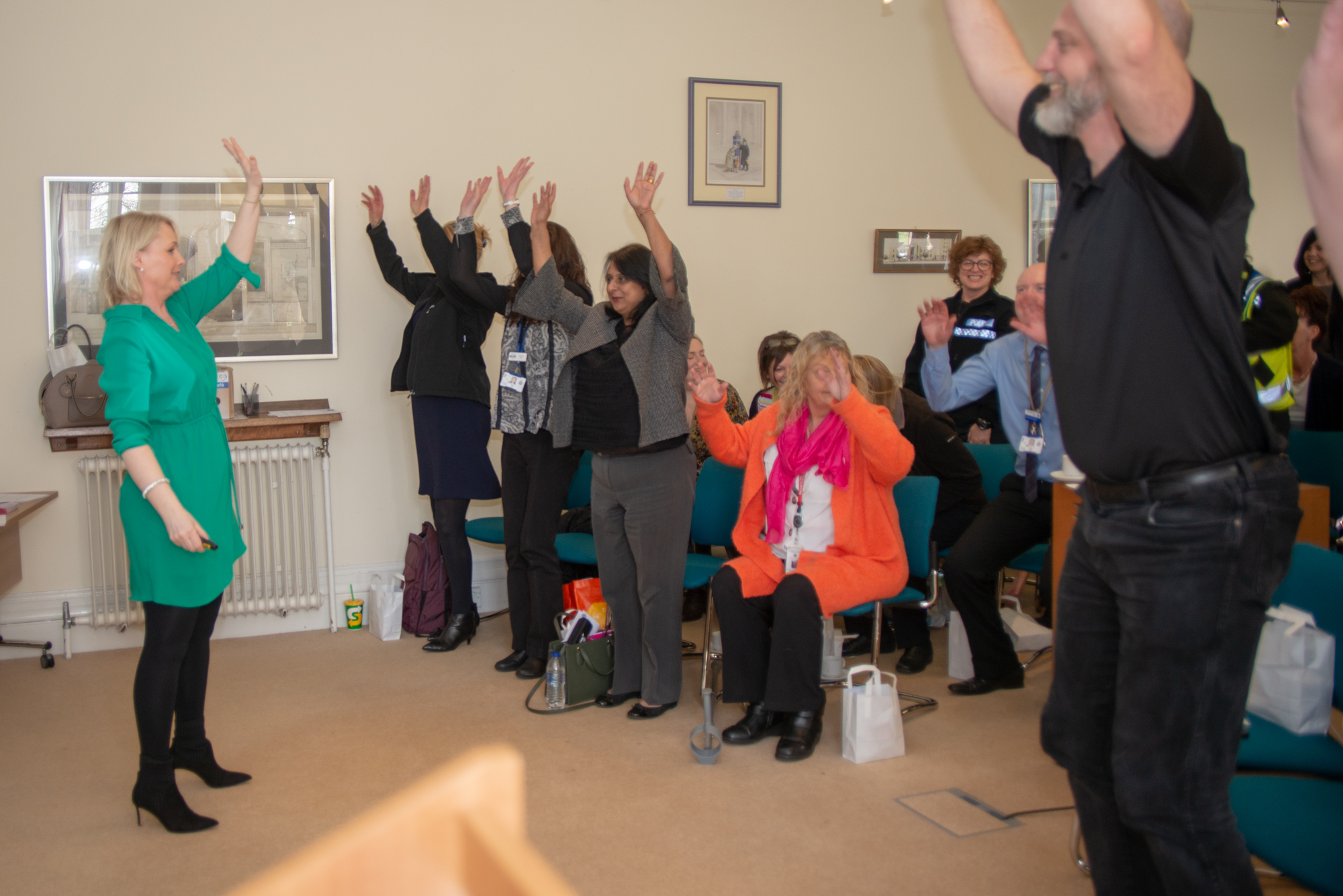 workplace environment's educating both women and manager's on how to make reasonable adjustments at work; small changes can make a massive impact on how a women copes and perform's. This is me at Northamptonshire Police and fire rescue service. They have looked at many ways of supporting women; from supplying extra uniforms to taking their fitness test's at a different time from some of the younger male officers.
There are lots of ways women can be supported at work.
Email for more information.
How to change your mindset
This was my last VLOG driving to work talking about how changing your mindset and will help you move from a negative to a more positive place which will help with menopause symptoms. I hope it helps you.
Menopause wellness day next Saturday
I will be talking at an event in Cirencester next Saturday; If you would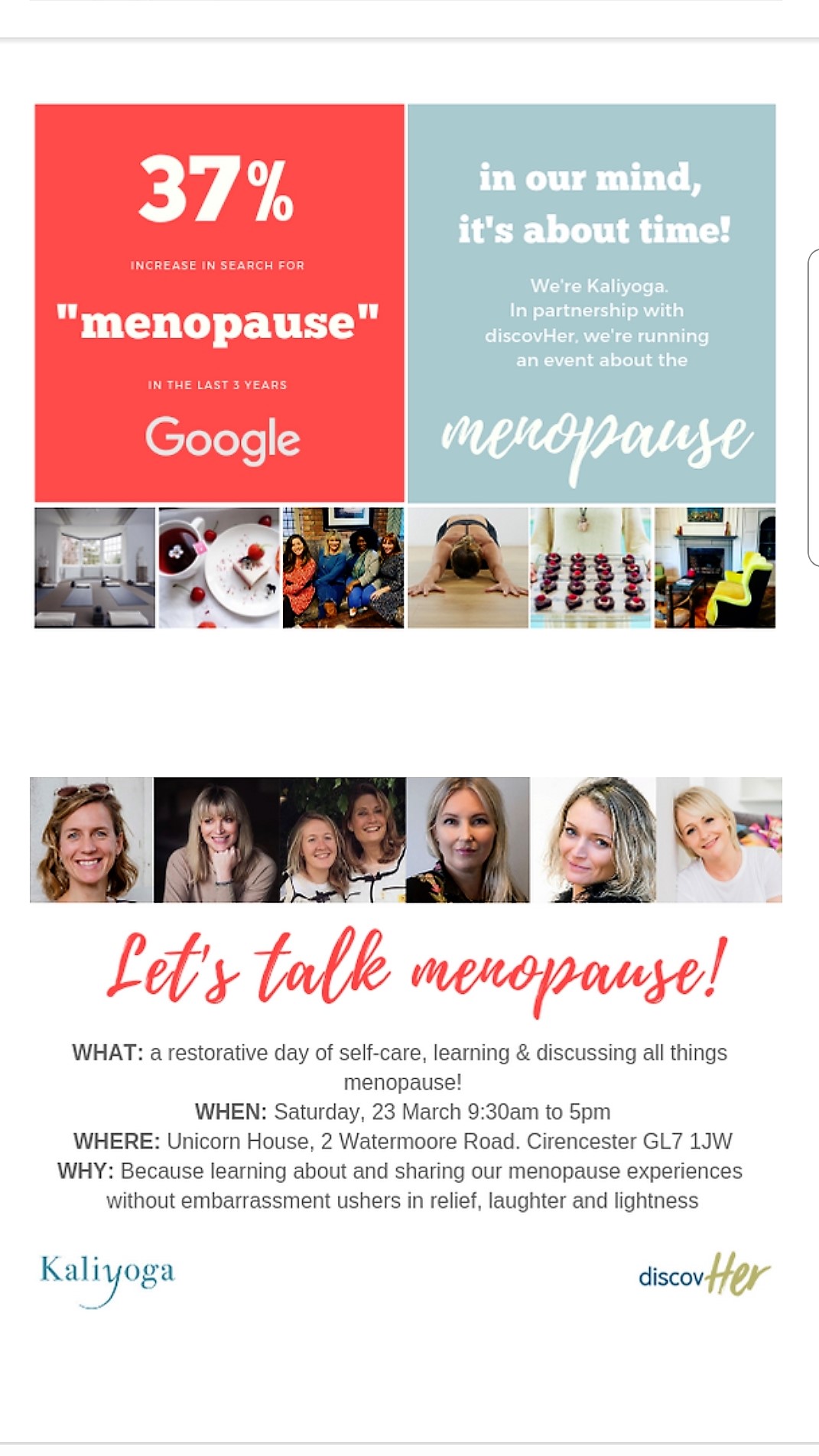 like to come, I have arranged with the organiser's that MENO&ME members receive a discount. Please enter "Kaliyoga friends" at the checkout.
Links
If you are interested in connecting with me or other Meno's on Social media and our closed facebook group;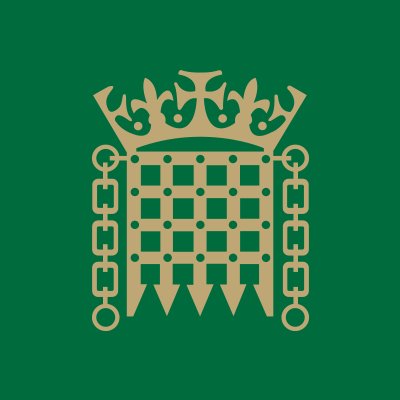 Did you know that menopause is being talked about in the house of commons?
Rachel Mc Clean who is a conservative MP in Redditch is campaigning to raise awareness of menopause. Some of the transcript is below with a full link.
So, I suggest you settle down with a cuppa or glass something nice and have a read.
Have a wonderful week and hope to connect next Sunday – any questions do shout!
Here is some of the transcript from the HOUSE OF COMMONS from Rachel Mc Clean.
Rachel Maclean (Redditch) (Con)

I thank the Members who have stayed behind for this important debate.

Every woman will experience the menopause at some stage in her life. When she does, she will embark on a journey that will throw up some of the most pernicious taboos that still exist in our society. The toxic combination of ageism and sexism that exist around the menopause, piled on top of the often debilitating symptoms, can cause mental health problems, relationship difficulties, problems at work, anxiety and depression, and much more. While menopause is a natural stage of life and ought to herald new freedoms and opportunities, for too many, it turns out to be the opposite. I know this from the menopause work that I have been doing in my constituency, including a Menopause Café, where we get together to drink tea and coffee, eat cake and talk about the menopause.

Eddie Hughes (Walsall North) (Con)

To speak from my own perspective, I organised a Menopause Café in my constituency in the Stan Ball Centre, and I was delighted to see a number of women from right across the constituency. Quite a broad range of age groups came to that event, so I will be arranging more in future.

Rachel Maclean

I thank my hon. Friend so much, both for his work locally and for supporting me in this work in the Chamber and the House. He is an absolutely fantastic campaigner for the menopause and for women.

Psychologically, none of us likes to be reminded that we are growing old. For women, however, the menopause provides irrefutable evidence that our biological clock has ticked. While men can, and do, continue to reproduce into their old age, we cannot. With that loss, we face a grieving process. Our species has evolved to reproduce itself, and women's bodies have evolved to carry out childbirth and child-rearing. Aeons of our cultural norms have been built upon that basic and irrefutable fact. Despite advances in all areas of medicine, I do not see men being able to conceive children or breastfeed any time soon, so the loss of those capabilities comes weighted with deep-seated and unexpected emotions. At the same time that we are attempting to grapple with those emotions, we find ourselves beset with a huge laundry list of symptoms and facing at best, indifference and ignorance, and at worst, downright hostility, mockery and discrimination while we attempt to help ourselves.

Jim Shannon (Strangford) (DUP)

I congratulate the hon. Lady on securing the debate. Like the hon. Member for Walsall North (Eddie Hughes), I have much interest in this, not only because it involves health issues that I am responsible for, but because sometimes things are pretty close to home. Does the hon. Lady not agree that the support that is needed for women who are going through tremendous changes in their bodies is not readily and sustainably available at GP surgeries, and that funding needs to be allocated to support groups, like the ones that the hon. Lady and the hon. Gentleman referred to, to ensure that the mental and physical health of ladies going through the menopause is readily available? That is very important.

Rachel Maclean

I thank the hon. Gentleman very much for making that valid point. I will talk about some of those issues, and he makes the really good point that these issues also affects men who are living with women as they go through the menopause.

I became a campaigner for the menopause by accident. For me, the start of the menopause came as I took my seat in this place. I attributed the almost constant migraines, the exhaustion, stress, insomnia, and the more than usual irritation with my ever-stoic husband, down to the new job, and the fact that my parliamentary accommodation was just over the bridge from Big Ben. I was probably the only Member to rejoice when Big Ben ceased to chime all through the night, because believe me, I heard every single bong.

It was only when I started to seek treatment for the unbearable migraines that I discovered the link with the menopause, and I started on a process that led me to understand that, very sadly, I was far from alone. I hesitated before speaking out about this personal issue, because I feared that in this place I would be regarded negatively by some colleagues or gain an unwarranted stigma attached to me as a menopause campaigner. However, when I realised how many women are affected by this issue and how many fail to get the help they need, I realised that it fell to me to speak out—to speak for people who cannot be here. And if I did not do it, who would?

I am pleased to say that this campaign, as we have just seen, has been universally welcomed by Members from across this House, including in particular, my hon. Friend the Member for Walsall North (Eddie Hughes), my hon. Friend the Member for Banbury (Victoria Prentis), who has just left the Chamber, my hon. Friends the Members for North West Cambridgeshire (Mr Vara) and for Selby and Ainsty (Nigel Adams), and the hon. Member for East Lothian (Martin Whitfield).

Outside our four walls, this debate is being followed with a keen interest, and I thank everybody—I know that they are watching and that they are heartened to see that this issue is receiving the attention that it deserves, although there is much more to be done. There are too many people for me to mention them all personally, but I particularly thank Dr Louise Newson—the menopause doctor—for her advice and knowledge on this matter. She operates a specialist menopause clinic in Stratford-upon-Avon and is an expert in this field. Her help has been invaluable.