Happy Sunday everyone, I hope you are enjoying it so far.
I hope my last blog on; "Why I did not bath for over a year" didn't frighten you too much, but I do feel so passionately about sharing what has happened to me as I do not want women to suffer as I did.
It felt very isolating and scary.
https://www.menoandme.com/single-post/2017/08/18/Dont-take-having-a-bath-for-granted
I have been helping people for over 20 years keep fit and healthy; So, when realised I was menopausal I searched and didn't feel that there was the right type of support out there for women, which is why I started Meno and Me and am very vocal on social media.
Thank you for following and signing up to my website. We need to talk about it more, we really need to break this taboo. FYI – I find Instagram the easiest and quickest way to get the message out – especially on the daily stories. Just download the ap and follow me, you don't have to post, just follow
https://www.instagram.com/menoandme/?hl=en
In a few years' time society will look back on us and scratch their heads on why it took society so long to do anything!
Thankfully more celebrities are talking about it, Lorraine Kelly, Ulrika Jonsson on ITVLorraine, Zoe ball and Meg Mathews have also been talking about their journey.
We still have a long way to go!
I receive so many private and direct messages from women thanking me on sharing my experiences, this keeps me going, so please spread the word and let's grow our Meno community – to help our peers but also the generation below us. My daughter knows everything there is to know about menopause!
Today talk to someone about the menopause. Please.
Sian Williams Chanel Five News Tuesday 17th October – National Menopause day.
On Tuesday 17th it is national menopause day. Chanel 5 Live News are doing a programme on menopause. The amazing Dr Louise Newson, the menopause Dr, will be on the panel of experts. I will be in the audience with Greg, my gorgeous husband, as they wanted to get a partner's take on it all!
Greg is a bit worried, he asked what he should say, my reply was; just say how I was during my very low time and how it was for you "are you really sure you want me to tell everyone how dreadful you were?!" My reply was "mmmm, yes…. we do have to let people know, but perhaps rephrase the word dreadful!?" To be fair, I was horrible, I felt low and in a bad mood most of the time – I am so thankful we found Dr Newson and went on HRT; Greg did say, he felt as if "he had my old Jane back" after just a month on HRT.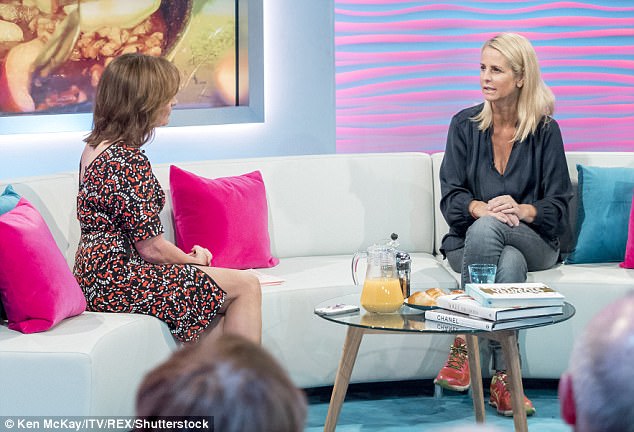 Tune in on Tuesday and please lets talk more.
Any questions on menopause, diet, food or health just email me. I am here to help.
Jane. xx